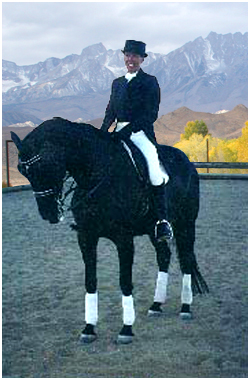 Hilke S. Ungersma


Owner - Operator - Trainer

Hilke, a native of Germany, became thoroughly dedicated to equitation when she moved to America.

After spending her first years riding western and breeding Appaloosas, she started training hunters and jumpers and eventually branched into 3 Day Eventing. She took young riders to the preliminary level and competed herself at such places as: Ram Tap (Fresno), CTETA (Woodside), Rancho Murieta (Sacramento), and at Wild Horse in the Napa Valley.

Following these formative years Hilke found her real love, Dressage, and ultimately rode and trained horses and riders to the Prix St. George level.

Her junior and amateur riders have qualified and competed at the Junior and Adult Amateur Championships (references available).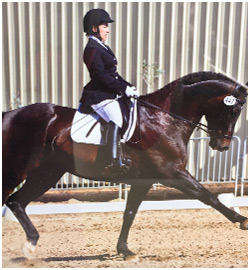 Elizabeth Evans



Elizabeth grew up in Bishop, CA riding, competing, and starting young horses in multiple disciplines. Training: colt starting, western, english, dressage, jumping.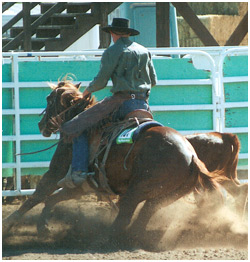 Ryan Kitts
Ryan was raised on a cattle ranch in California, where his parents raised registered cattle. At a young age, Ryan started riding horses, and helping his parents with their show cattle. Ryan moved with his parents to Oregon, and then on to Susanville, where his Grandfather and Dad adopted a Mustang for Ryan. "Garrett" started Ryan in training horses.

After the family moved to Bishop, Ryan worked for 3 years for a cattle ranch in Dillon, Montana, where he worked cattle, and rode colts. He worked for a few months with a Cutting horse trainer in Paso Robles. Ryan returned to Bishop and worked for Rock Creek Pack Station, and other pack stations in the Sierra's.

He worked for several years with the Double L Ranch in Bishop, teaching students, and riding colts. Ryan found that he really enjoyed reining cow and cutting horses and with his background in cattle it was natural that he began to teach and show in those disciplines.
Ryan belongs to several club affiliates including NRCHA, NCHA and WNCHA. He enjoys showing horses as much as teaching. Some titles he has won in recent years include NRCHA Open Bridle Championships, NRCHA Open Hackamore Championship and NRCHA Open Hackamore Reserve Championship. Also among Ryans accomplishments are winning an Open Bridle Series Championship Saddle and the distinction of top five money-maker.
Ryans dedication to his students and horses is evident through his training and showing, bringing out his true passion for cow and cutting horses.
Janet Titus
Janet is an accomplished horse trainer/clinician, living and working in the Eastern Sierra for the past 35 years. She builds equine connections between people and their horses and operates her own business, Equine Connections, at Millpond Equestrian Center.

Janet teaches horsemanship and western riding to all levels and ages of riders. Her biggest passion is training and owning mustangs and she especially loves sharing that passion with young riders! Her special love for mustangs began at age 18 when she adopted 2 mustangs and began riding them in the high country. Janet takes her students from handling thier horses on the ground to successfully and safely riding western style out on the many beautiful miles of trails surrounding Millpond Equestrian Center.

For western style event challenges, Janet's experience and support will get you prepared. She trained Poster Boy to a 4th place finish in the 2010 Norco Extreme Mustang Trail Challenge (training a wild mustang in only 90 days.) PB was the highest selling horse at auction. In 2008 Janet and the amazing Chato took 8th at the Western States Extreme Mustang Challenge. She's also competed in Lynn Palm's Supreme Horsewoman Freestyle Competition, and Craig Cameron's Extreme Cowboy Race. She was a clinician at the 2009 Napa Mustang Days, and performed for the crowd, a thrilling bareback riding exhibition on her mustang. She continues to compete with Cheddar in numerous Endurance competitions.

Western riding is a fun and thrilling sport. Experience for yourself the love of horses and making your own special equine connection.